100' 12 AWG 5C TC-ER 600V E2 Black Non-Shielded CVTC XPTC Control Tray Cable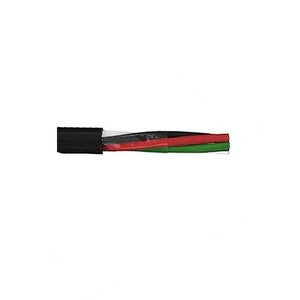 ---
  HomeView All ListingsStore PoliciesNewsletterFeedbackContact Us Store Categories         Metal Clad Cable UF-B Portable Cord SOOW SJOOW THHN/TFFN Machine Tool Wire Electronic Wire Aluminum XLP USE Direct Burial Telephone Cable Miscellaneous Odds & Ends Control Cable BX Cable Switchboard Cable Copper Building Wire XLP Copper Building Wire XHHW PVC Twist Sub Pump Cable No GD PVC Twist Sub Pump Cable W/G Flat Neoprene Pump Cable W/G Flat (2) JKT Pump Cable No GD Flat (2) JKT Pump Cable W/G Service Entry Cable Romex NM-B Diesel Locomotive Cable Type W Power Cable Welding Cable Aluminum URD Direct Burial Aluminum XHHW Conductor Aluminum Service Drop Overhead Aluminum Bare ACSR Aluminum SER & SEU 100' 12 AWG 5C TC-ER 600V E2 Black Non-Shielded CVTC XPTC Control Tray Cable Click Thumbnails to Enlarge   DESCRIPTION

- 12 AWG 5 Conductor - Non-Shielded - CVTC XPTC Control Tray Cable - PVC Jacket 90C UL Type TC-ER - XLPE XHHW-2 Insulated Conductors - 600V E2 Wiring - Black - Cut to Length

PRODUCT SPECIFICATIONS

AWG Size
12
No of Conductors
5
Color
Black
Shielding
Non-Shielded
Conductor Stranding
7 Stranded
Insulation
XLPE XHHW-2
Jacket
PVC
Type
UL Type TC
Product Type
Tray Cable
Voltage
600V

Shipping

***Free shipping on most orders. Need the wire fast? Ask about our expedited shipping to get it to you on time. Signature required for all deliveries. Please note 's delivery dates are only estimates actual delivery dates may be faster or longer, please message us for exact delivery times.***

Payment & Returns

***All returns must be made within 30 days from the date of purchase or they will not be accepted. Nassau National Cable does not cover re-delivery fees, extraneous shipping expenses or change of address fees after shipping***

Feedback

Feedback will be left as soon as feedback is left for us.

DISCLAIMER

Picture May Not Represent Actual Cable and is Only Used as a Representation Please Refer to The Specifications for Product Accuracy.